Explore the truth behind TWICE's plastic surgery rumors in this revealing analysis. Uncover the facts about their stunning transformations.
TWICE debuted on October 20th, 2015, after each member was announced to have passed JYP Entertainment's survival show, Sixteen. TWICE was formed by every talented female trainee and they have received much praise and achievements for their hard work to this day.
Many are curious about the success of TWICE's career journey, will there be changes in each member's appearance? As a K-Pop girl group, of course, competition in the music industry is not easy. Therefore, they have to prepare a new and fresh concept for their comeback, and their appearance must look optimal in every comeback.
Do you think that TWICE members have undergone plastic surgery to be that pretty? To find out the answer, let's check out the complete information in the article below!
TWICE Members' Pre-debut Appearances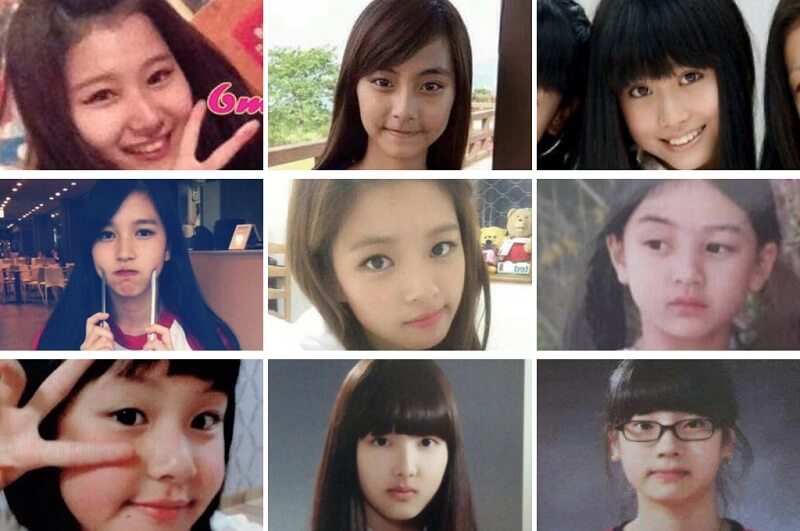 It's no secret that many people are curious about the lives of K-Pop idols before they had debuted. Besides their reputation before becoming idols, many fans want to know more about how these idols lived their lives before becoming famous as they are today.
Besides the pre-debut life, fans and the public are often quite curious about the pre-debut appearance of K-Pop idols, right? Some idols have been accused of having done plastic surgery since their pre-debut appearances are different from their recent appearances. So, are TWICE members some of the idols who have undergone plastic surgery?
To satisfy your curiosity, don't miss TWICE members' pre-debut appearances in the section below!
Did Jihyo, Nayeon, and Jeongyeon Undergo Plastic Surgery?
Being the 3 people who are also in charge of being vocalists of TWICE, the beauty of Jihyo, Nayeon, and Jeongyeon also turns out to have stunning visuals, and you could say the three of them are the three oldest members. However, they also still look flawless on any occasion! Without waiting too long, let's take a look at the pre-debut appearances of Jihyo, Nayeon, and Jeongyeon!
As a member who has the position of TWICE's leader, she has a characteristic appearance with a body that looks fuller than the other members. So when someone sees Jihyo's appearance for the first time, they might think that Jihyo is a member from abroad, right?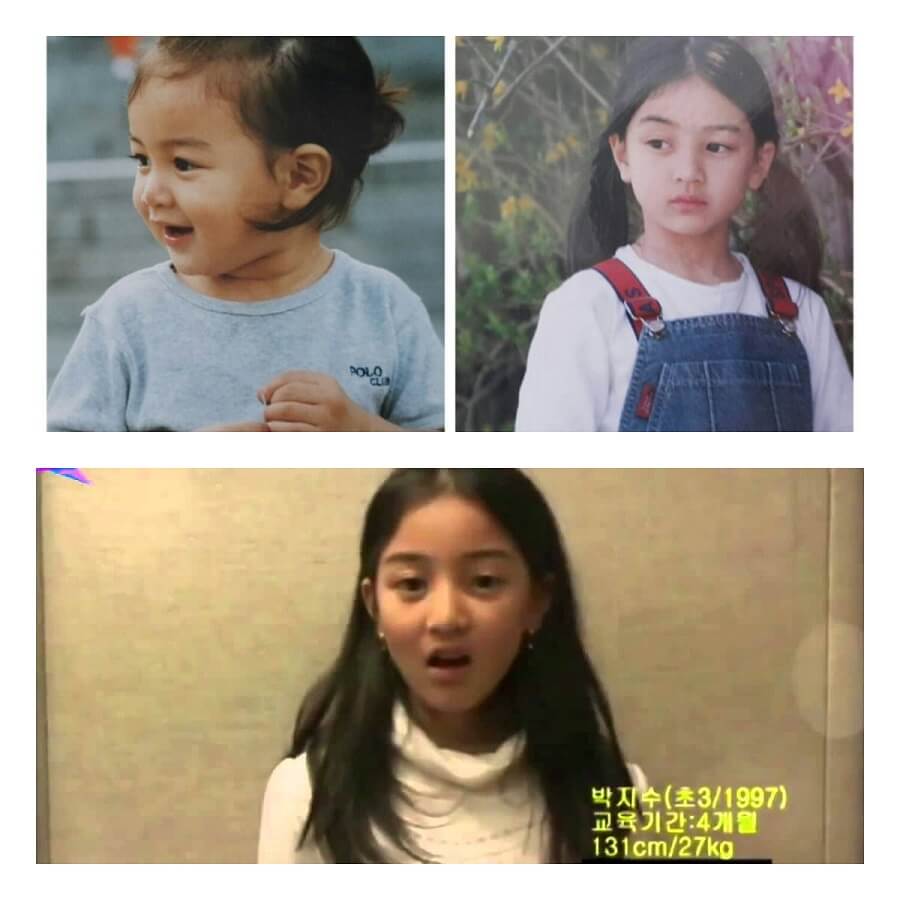 Her facial features are almost identical to most Korean idols because Jihyo has had a very natural double eyelid since birth and looks very bright with her eyes since childhood. Her smile also looks very cute and displays a very innocent aura from when Jihyo was little. Jihyo's appearance when she was still in high school looks precious too!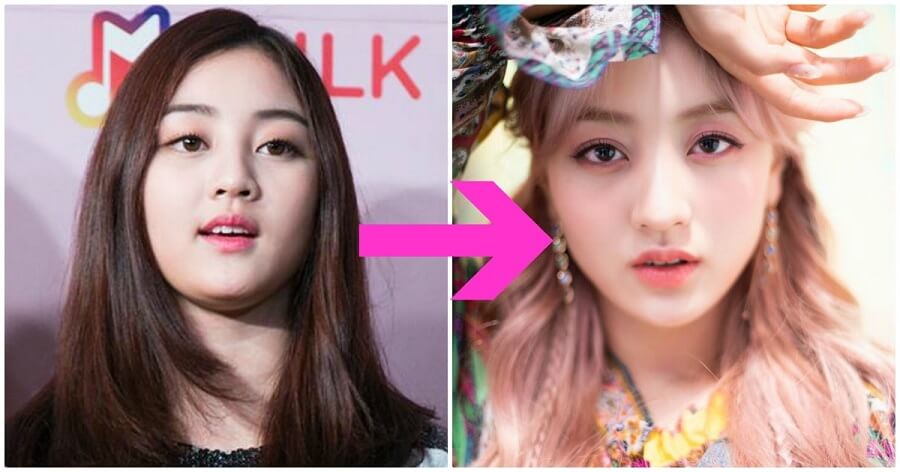 Being pretty since birth, Jihyo doesn't seem like she has done any plastic surgery to enhance her look, right?
Nayeon is the next member who can be recognized if we look at her pre-debut photos because she looked the same in terms of her facial features, even when she was little! For example, the photo on the left shows Nayeon's appearance when she was celebrating her birthday with a slightly grumpy face but still cute, right?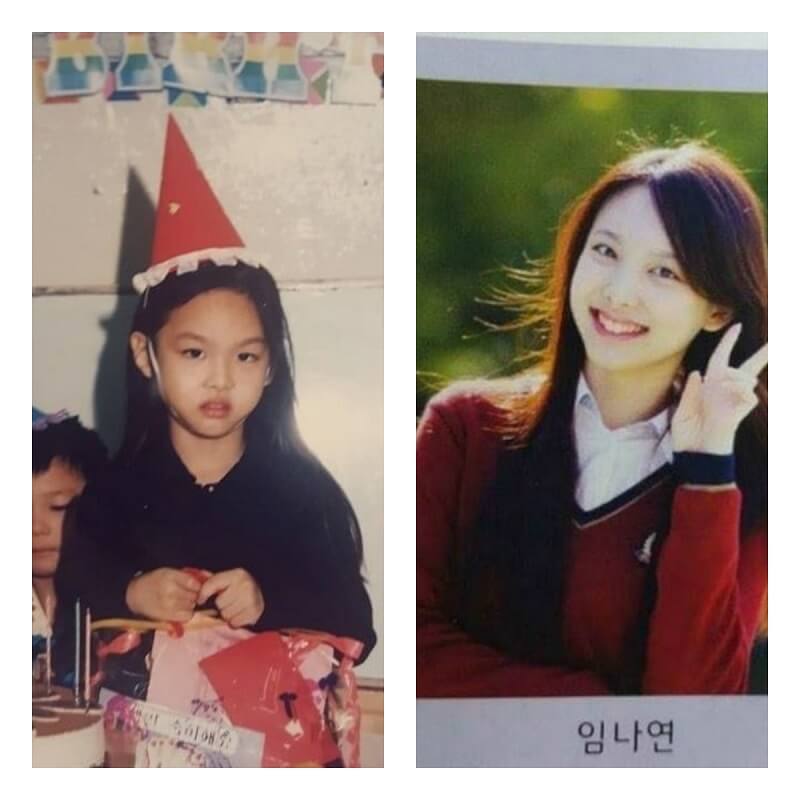 The photo on the right also still shows Nayeon's appearance during high school and was taken for her yearbook. Do you still recognize Nayeon with her bangs and innocent face in her pre-debut picture above?
However, instead of plastic surgery, there are slight changes in Nayeon's face. It's her pre-debut eyebrows that look more narrow than her after-debut eyebrows.
Do you think that it is considered plastic surgery? Whatever it is, Nayeon was pretty back then and even prettier now!
Jeongyeon also turned out to have adorable and funny little memories. In the photo on the left, we can see the little Jeongyeon in front of her house wearing everyday children's clothes. Even though it's a bit different from the photo on the right, Jeongyeon can prove that she can glow up and look beautiful in the high school yearbook album!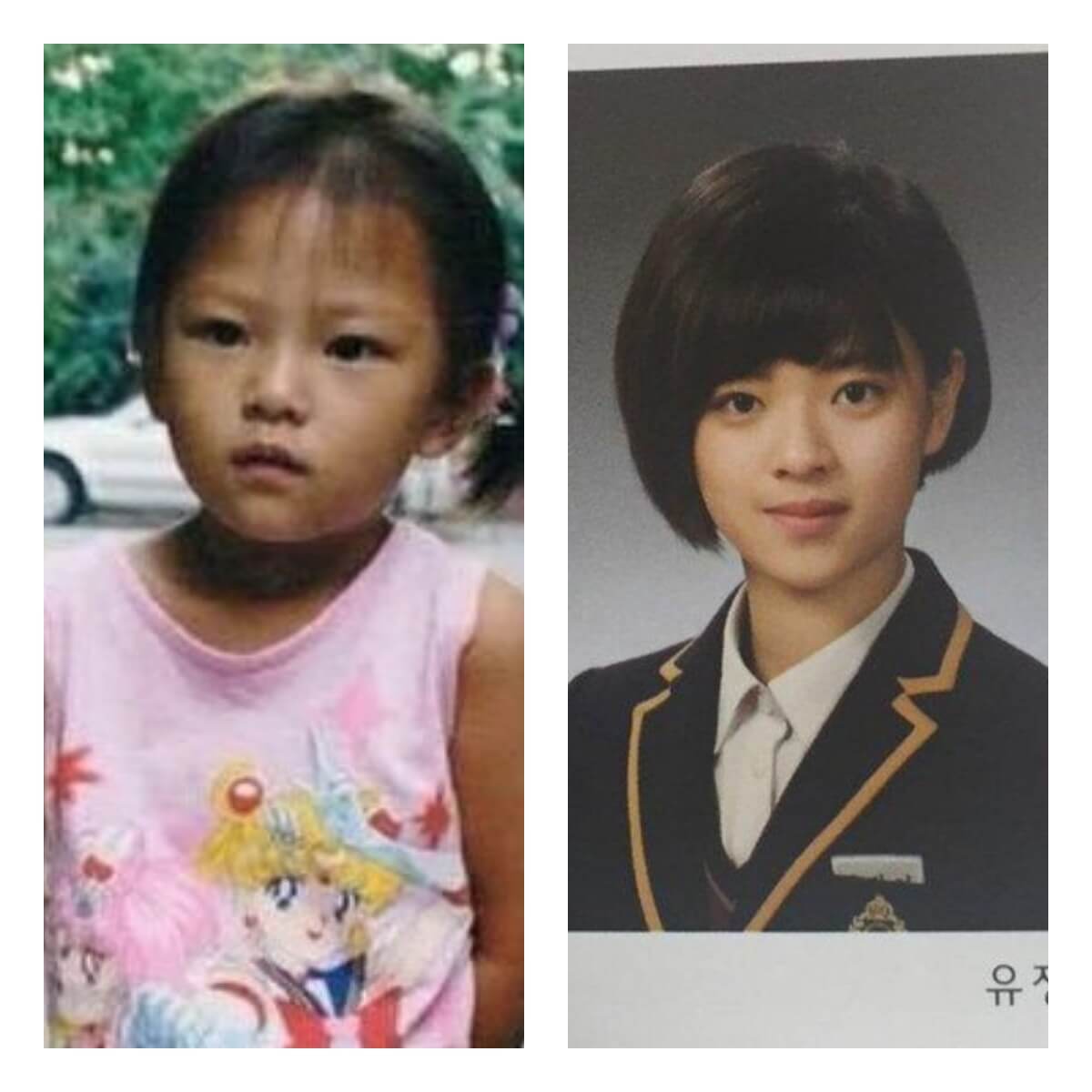 If we see her old photos, do you think Jeongyeon underwent plastic surgery? Anyway, Jeongyeon's pre-debut face reminds us a lot of her sister, don't you think so?
What do you think about TWICE's Jihyo, Nayeon, and Jeongyeon's pre-debut pictures? Still can't decide if they underwent plastic surgery or not? Let's see other members' pre-debut pictures then!
Did Momo, Sana, and Mina Undergo Plastic Surgery?
These three members from Japan are also more or less powerful members of TWICE. Many people, including fans, often praise the beauty of the three of them. There's no doubt that Momo, Sana, and Mina are often seen in the same frame or have alternating parts in a song like they are TWICE's secret weapon!
Let's see Momo, Sana, and Mina's pre-debut appearances in this section below and find out if they underwent plastic surgery or not!
Momo is very famous for being the main dancer of TWICE, and she is also often the center when doing dance breaks in every choreography. Momo also proved that she worked hard to be known as one of the most talented members in dancing.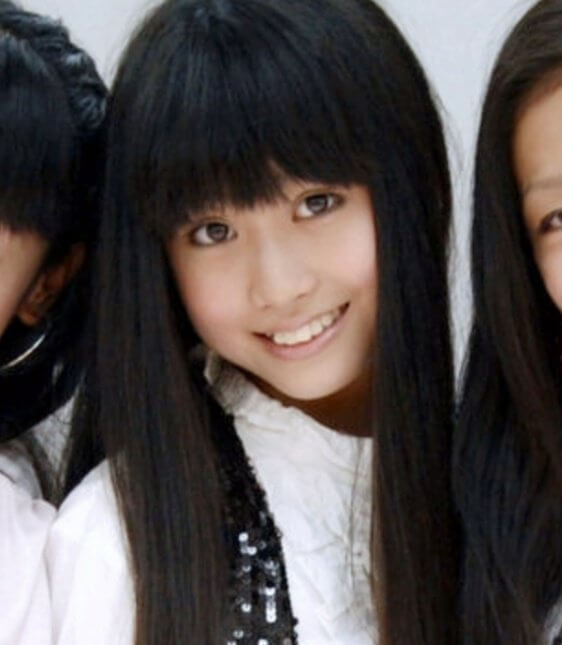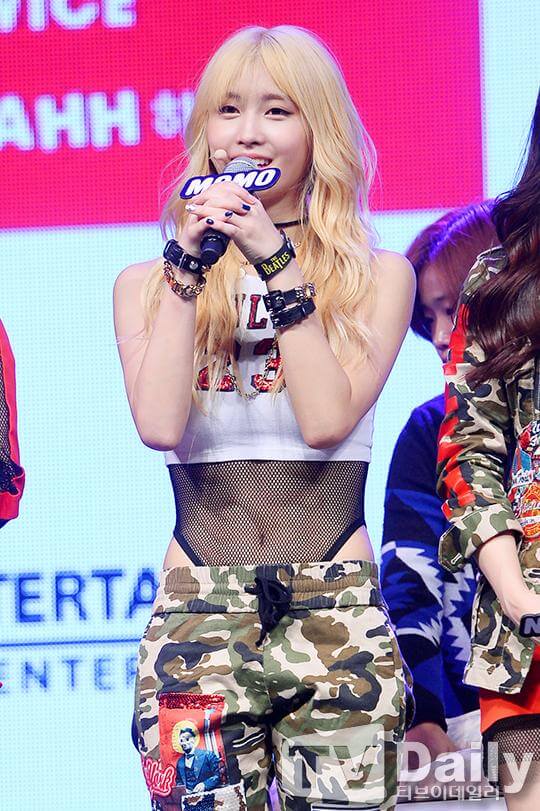 Momo had a very cute visual when she was still a kid, it's almost impossible that she has underwent plastic surgery. Momo's pre-debut pictures even show her wearing bangs from when she was very young. Momo also doesn't seem shy when she smiles and shows her bright side since she was still a kid!
One of the members who is also known as a natural aegyo is Sana. Unexpectedly, when Sana was a child, the pre-debut pictures also showed her aegyo side. Sana had short hair when she was a baby, and her cheeks also looked chubby. While in the photo on the right, Sana, who has grown up, looks great with long hair and side bangs, taking pictures in a Japanese Photobox, famous for its kawaii filter.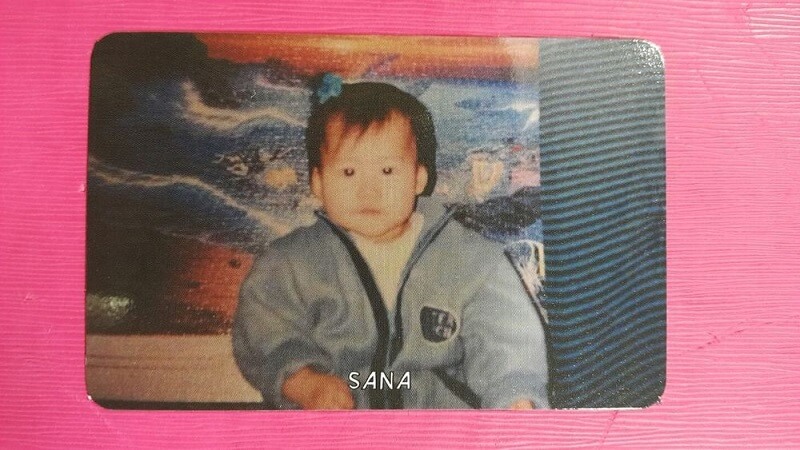 Instead of plastic surgery, Sana could have been on a diet before making her debut thus making her appearance look even prettier now.
Myoui Mina also became one of the trainees of JYP Entertainment, who was already well-known among other trainees. Some said that Mina was the prettiest trainee and her beauty was already known by other trainees! But, is it really like that?
On the left, Mina, who is about 1 year old and still a baby, looks very cute! She also wears a shirt and ribbon over her head as if she is a baby Minnie Mouse version. While on the right, the grown-up Mina looks beautiful with bangs and holds Big Bang's lightstick while attending Big Bang's concert, since she was known to be a K-Pop fan prior to her debut. Amazing, right? Pre-debut Mina, who was hyped up for being a K-Pop fan, was able to make her dreams come true and become a K-Pop idol by herself!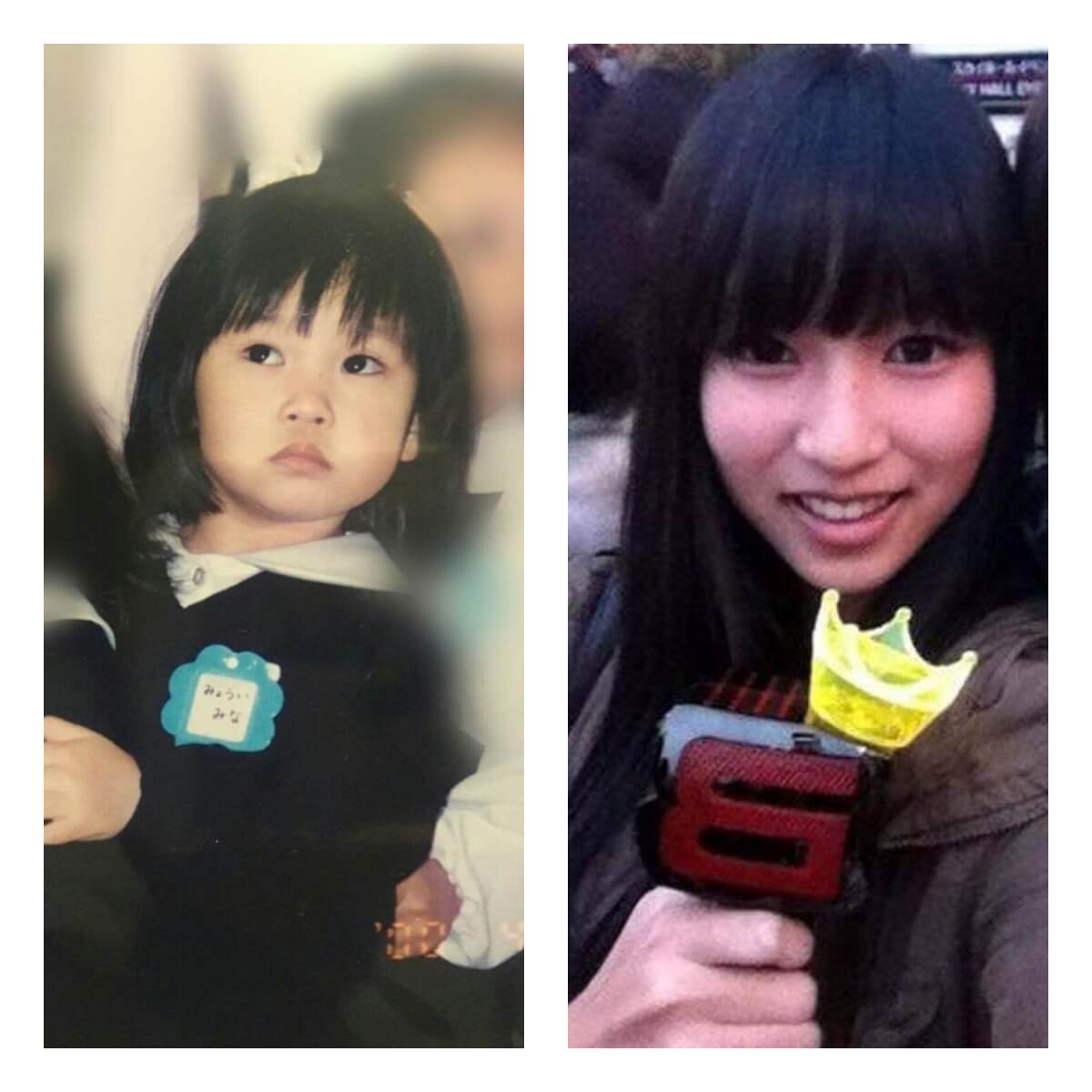 No wonder Mina was known as the most popular trainee back then, she was already incredibly beautiful before her debut! Do you think Mina underwent plastic surgery, then? It's so hard to judge, right?
What do you think about TWICE's Momo, Sana, and Mina's pre-debut pictures?
Did Dahyun, Chaeyoung, and Tzuyu Undergo Plastic Surgery?
These three members are known as the maknae line of TWICE. Yes, Dahyun, Chaeyoung, and Tzuyu are born in 1998 and 1999, they are the youngest members of the group and are members who often look excited in any situation. If you already know them, don't miss their pre-debut appearances in this section below!
Being a member of a girl group, of course, indirectly, there will be a rating where people judge the beauty of each member. However, when it comes to beauty, Dahyun is one of the members whose visuals are rarely talked about, even though the member who was born on May 28th, 1998, in Seongnam, Gyeonggi-do, South Korea, has a natural beauty since she was born.
You can see Dahyun's pre-debut appearance in the picture above, little Dahyun on the left resembles the Dahyun we know today. While on the right side, Dahyun who posed for her yearbook album is still recognizable as the TWICE rapper.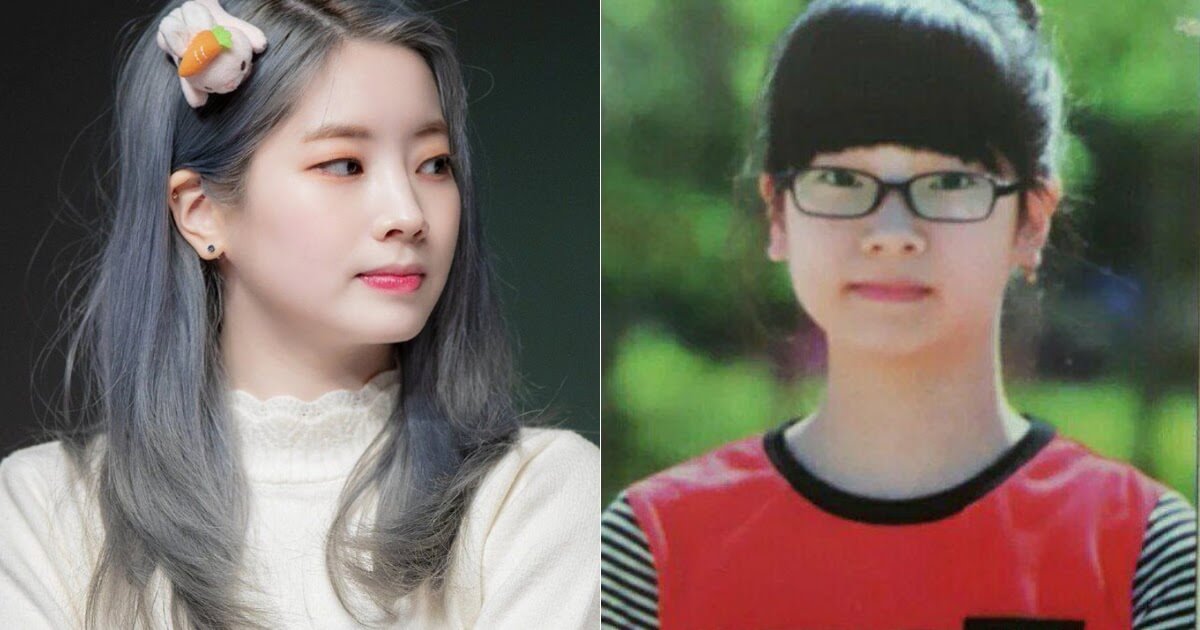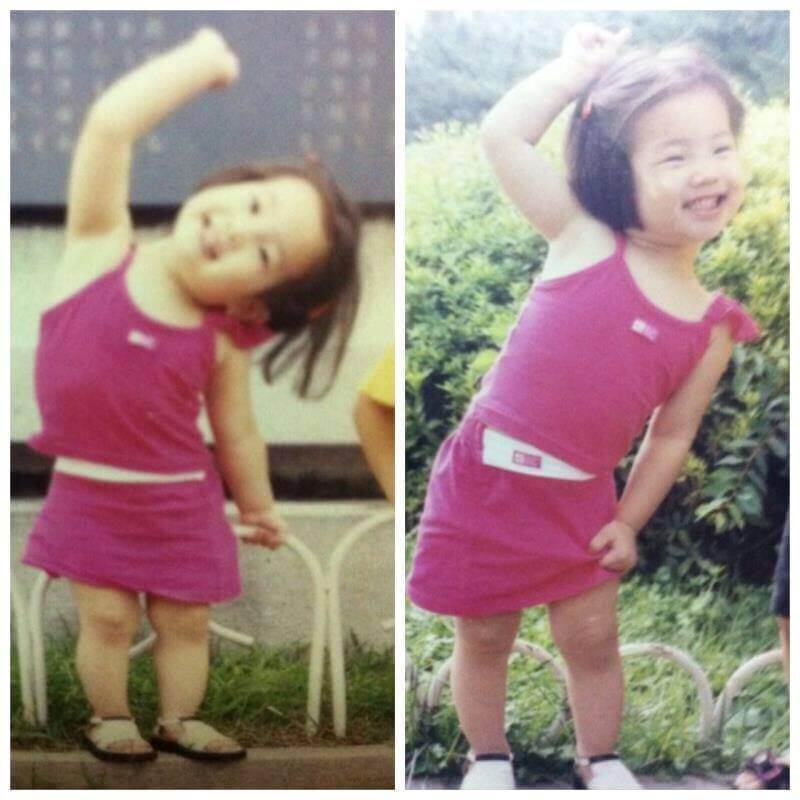 Instead of plastic surgery, the difference between Dahyun's past face and present appearance could be because of diet or loss of fat in the cheeks, don't you think so?
Son Chaeyoung also has visuals that haven't changed since childhood. Chaeyoung has the same smile and round eyes, just like Jihyo. One of the included members in this maknae line also looks good with short hair since childhood, like the everyday hairstyle that she displayed after debuting as a TWICE member.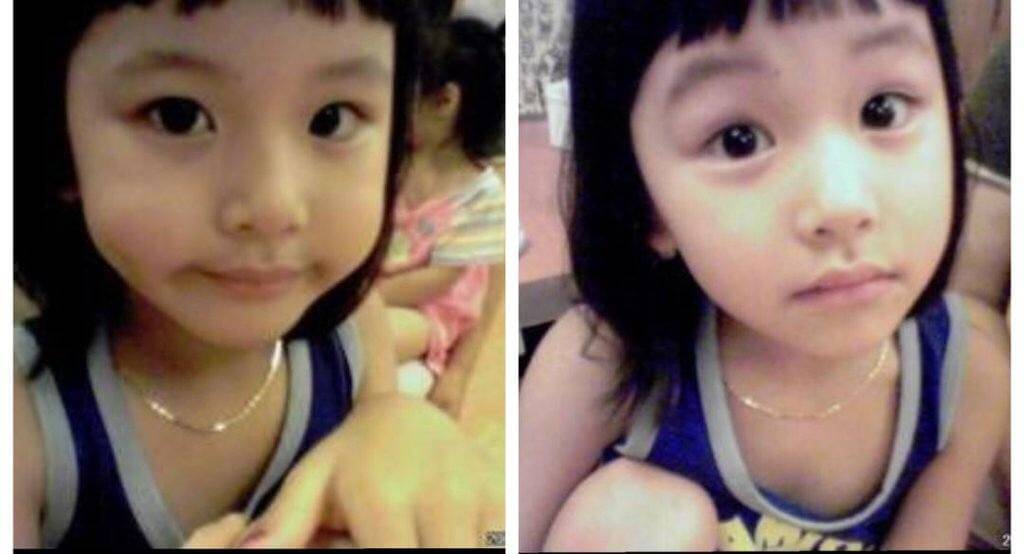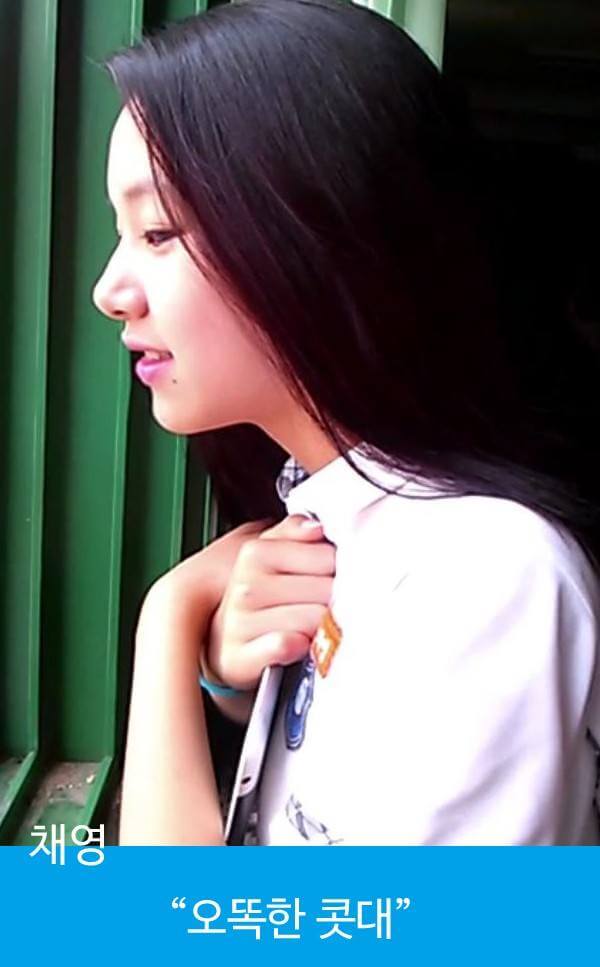 It feels like Chaeyoung didn't undergo plastic surgery, right?
As for Tzuyu, her pre-debut pictures show how pretty her face is from time to time. Even as a child, Tzuyu's beautiful eyes sparkled so bright. Just like Nayeon, Tzuyu's past photos show that the maknae of TWICE had narrow eyebrows before. Looks like Tzuyu also had her eyebrows groomed. But is it considered plastic surgery too? Hmm, kindly share your thoughts!
Anyway, what do you think about TWICE's Dahyun, Chaeyoung, and Tzuyu's pre-debut pictures?
If you like this article, please don't forget to kindly share it on your social media and stay tuned for more interesting articles from KPOPLOVE!